Considering Canucks' love of the offline version of the iconic card games, it's no surprise that online Poker is such a hit in Canada. The top editions on the World Wide Web bring together the game's best elements and unbeatable convenience.
These games let you place bets and aim at playing the strongest winning hand, and you can find them with our help. Our mission is to empower Canadians to take full advantage of the incredible entertainment available on computer and mobile devices.
When we say that we bring premium online Poker to players in Canada, we meant it. The Casinos For You team checks that gaming brands meet the following criteria before we make any recommendations:
Award-winning software and fair results
Cutting-edge SSL data encryption
Trusted banking methods
Wide range of games
Reliable customer service
Best Online Poker Sites in Canada
We search tirelessly for the best Poker sites in Canada to spare you the time and effort of doing it yourself. Follow our recommendations to find world-class licensed and regulated online casinos and Poker rooms.
Established in 2002, 888poker is the second biggest, and one of the longest running, best Poker sites in Canada. As many as 20,000 players enjoy games such as Omaha (High and Low), Texas Hold'em, and 7-Card Stud. Experience quality gaming with secure services, generous bonuses, and thrilling tournaments.
PokerStars is one of the best Poker sites in Canada that every player should know about, as it deserves every ounce of its excellent reputation. The site launched in 2001, and it is undoubtedly the biggest of its kind. The brand controls as much as two-thirds of the world online Poker market, which is understandable when you see the variety of games. Play at PokerStars, and you can participate in some of the biggest real-money tournaments online.
Launched in Ireland in 2004, Full Tilt has the game selection and betting range to cater for all kinds of players. The encrypted site is licensed and regulated by the Malta Gaming Authority, so you can trust the Omaha, Texas Hold'em, Razz, Stud 8 or better, and other games available. Enjoy fantastic promotions, take part in tournaments, and use trustworthy services.
Compared to other casino games, Poker is relatively young. Decades ago, several writers suggested that it developed from As-Nas, an old Persian game, but later research points to the card game being an American creation.
Developments in the rules and gameplay happened over the following 200 years, which led to the appearance of variations that you can still play today.
Poker In Canada: What We Look For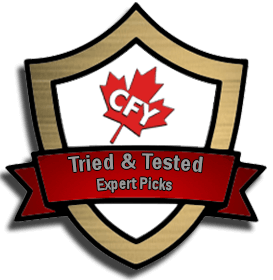 When you choose to play at a Poker site we recommend, you are choosing a site that scored top marks in at least 5 different areas. Those essential elements include:
High Online Traffic – There's no point in promoting or playing at a casino that doesn't get enough visitors to make it worth your while. If we recommend a brand, you know that thousands of players log in daily.
Readily-Available Online Poker Tournaments– We know that, as much as players appreciate the single-player gaming experience, they also relish chances to put their skills to the test by playing against others. We recommend sites that offer tournaments.
Top Quality Online Poker Software – We promote sites that use the best Poker software. This ensures great functionality, fair results, and mobile compatibility.
Wide Selection Of Poker Games – Players love variety, so we recommend sites that offer a wide selection of Poker variants.
Wide Range Of Payment Methods – The convenience of online gaming should extend to the range of payment methods you can use for deposits and withdrawals. We recommend sites that accept cards, web wallets, prepaid vouchers, and other methods.
An incredible array of Poker games online awaits you at Canada's premium gaming sites. You'll find the most famous variations as well as games that you may not have known about. Among them are:
Do you know what the term fish means in poker?
A player who is not very good at Poker can be named a fish… but this term does need to be used carefully as "fishiness" is relative when playing poker as even good or great players make mistakes. The saying goes 'If you're the 9th best poker player in the world, but you're sitting at the same table as the top 8, you're the fish.'
Beginner's Guide To Online Poker
We've created a handy online Poker guide so you can learn about:
Real Money Poker
Learning how to play the game is the best way to avoid making expensive mistakes as a beginner. Our guide includes need-to-know information.
Poker Rules
Every variation is played according to its own set of rules. Learn the basics of popular games.
Poker Tournaments
Our online Poker guide offers valuable insights into the different types of tournaments you can enter.
How To Play Online
There is a difference between playing offline and online Poker. Learn more with us.
Many players agree that Poker and strategy go hand-in-hand. The best strategies for beginners include:
1. Develop your Poker skills
Improving your skills by practicing regularly will boost your confidence and help you avoid making mistakes.
Your position at the table is important when playing against other players. Sit to the left of aggressive, loose, or tricky players to have a positional advantage over them.
3. Know your Poker terminology
Learn commonly used Poker terms so that you don't create delays or make mistakes because you don't know the meaning of words used during the game.
4. Play fewer hands BUT play aggressively
Play aggressively to force your opponents to react to your actions, which increases their chances of making mistakes.
If you have doubts about the strength of your hand, fold rather than placing another bet.
Keep an eye on your opponents. Paying attention to their skill signs and seeing the connection between their betting habits and the hands they reveal at a showdown, offers insights that can help your game.
Learn The Most Common Poker Terminology
There are quite a few Poker terms to know before you decided to join a Poker table, online or land-based. Our CFY team has consolidated a list on the more common terms used.
All In – To go All In means you run out of chips by betting all of yours during a game. If that happens, the other players usually create a side pot for which you can't play. However, you still stand a chance to win the pot to which you contributed.
Angle Shooting – Using deceptive tactics to try get information about their hand out of a beginner or an inexperienced player, or to fool them to gain another form of advantage is known as angle shooting. It's frowned up, and most rooms have rules to protect players from it.
Bad Beat – If your strong Poker hand is beaten by an even stronger hand, it's known as a Bad Beat.
Bluff – A bluff is when you place a bet on a hand that is not particularly good, in the hope of getting one of your opponents to fold.
Bubble – The Bubble is the stage toward a Poker game's end, during which only one or two players need to be eliminated before you reach the money.
Community Cards – The Community Cards are the cards that are dealt to the table during a game of Poker. The cards are shared by all players. In Texas Hold'em, they are dealt during the Flop, the Turn, and the River.
Cooler – A Cooler is when a correctly-played strong hand loses to a stronger hand due to the luck of the draw.
Drawing Dead – Playing a hand that cannot win, even if it improves through the addition of new cards, is known as Drawing Dead.
Fifth Street – Also known as the River in Texas Hold'em and some derivative variants, Fifth Street is the betting round that begins when the fifth community card is dealt.
Free Roll – The term 'Free Roll' can apply to tournaments or hands. Free Roll tournaments are those that do not charge entry fees. If you have a Free Roll hand, it will either split the pot with your opponent, or, if specific cards are dealt, it will beat your opponent.
Hole Cards – The hole cards are those you do not reveal to the rest of the table. For example, the 2 cards you get after placing your first bet in a game of Texas Hold'em are Hole Cards.
Kicker – A kicker is a card that does not participate in your winning hand but may be used to give you the upper hand if you tie with an opponent. For example, if you play a hand of Q-Q-10-5-2 as a Pair of Queens, the cards 10, 5, and 2 are kickers.
Limping – When you enter a pot by calling (placing the minimum bet needed to stay in the game) rather than by raising (placing a higher bet than the one you placed earlier or placed by the player who bet before you), you are said to be limping.
Nuts – The Nuts is the best hand you could hold. This can mean the top-ranking Royal Flush, or the best hand in a particular situation.
String Bet – A String Bet is an illegal bet in which you don't declare the amount of your bet and you do not make your bet in a single motion. For example, you place a String Bet when you decide to bet 5,000, don't tell anyone the size of the bet, place 2,000 in chips on the table, and then add 3,000 in chips. If you had told the other players the amount before placing the first lot of chips on the table, it would not have been a String Bet.
Slow Rolling – The term Slow Rolling can be used in two contexts in Poker games. If you make a long pause on purpose before placing a bet, you are Slow Rolling – especially if you have a strong hand. You also are Slow Rolling if you make a long pause before revealing your hand.
Tilting – You are said to be Tilting during a Poker game when you get so angry or frustrated that you lose control, adopt a weak strategy for the situation, and play more aggressively.
Royal Flush – The Royal Flush is the highest-ranking Poker hand. It includes a 10, J, Q, K, and A, all of the same suit.
Straight Flush – 5 same-suited cards in numerical order form a Straight Flush. For example, the 4, 5, 6, 7, and 8 of spades in a hand that also includes the ace of hearts.
Four of a Kind – The same card in each of the 4 suits is known as Four of a Kind. For example, the 6s of hearts, diamonds, spades, and clubs in a hand that also includes the king of diamonds are Four of a Kind.
Full House – When your hand includes a Pair as well as Three of a Kind, it's known as a Full House. For example, your hand includes the queens of hearts, diamonds, and spades, the jack of clubs, and the jack of diamonds. The 2 jacks form a Pair, the 3 queens are Three of a Kind, and together, they comprise a Full House.
Flush – A Flush is when you have any 5 cards in the same suit. They do not need to be in order. For example, a hand including the 3, 4, 6, 7, and 9 of diamonds is a Flush.
Straight – When you have mixed-suit 5 cards in numerical order, your hand is a Straight. For example, you hold the 3 of hearts, the 4 of diamonds, the 5 of hearts, the 6 of clubs, and the 7 of spades.
Three of a Kind – A hand that contains 3 of the same cards and 2 cards that are not paired is known as Three of a Kind. For example, your hand is comprised of the kings of diamonds, hearts, and spades, the 7 of hearts, and the 2 of clubs. The kings are Three of a Kind.
Two Pair – A hand that includes 2 different Pairs is called a Two Pair. For example, you hold the kings of diamonds and spades, the 4s of diamonds and hearts, and the jack of diamonds. The kings and the 4s are 2 Pairs.
One Pair – 2 of the same cards in a hand is known as a Pair or One Pair. For example, your hand includes the 5s of spades and clubs, the queen of diamonds, and the 7 and 8 of spades. The 5 of spades and the 5 of clubs for a Pair.
High Card – Your hand does not include any matching cards. For example, you hold the king of hearts, the queen and 7 of diamonds, the 3 of clubs, and the 2 of hearts.
Top 10 Best Poker Starting Hands
Pocket Aces (Nicknames: Pocket Rockets, Bullets, American Airlines, Snake Eyes, Batteries, Needles, Two Pips) – 2 aces are one of the best Poker starting hands you can get. The hand's a pre-flop favourite of many players, although it is at its best in games with a small number of players.
Pocket Kings (Nicknames: Cowboys, King Kong, Kevin Keegan, Krispy Kreme, Ace Magnets, Elvis Presley) – 2 kings are the next-best thing to 2 aces. They can beat hands that include a single ace among other cards as much as two-thirds of the time. The hand is best pre-flop.
Pocket Queens (Nicknames: Ladies) – When you're dealt 2 queens, you know that there are only 8 other cards in the deck that can beat your hand. You can play the hand strongly prior to the flop, and you can confidently raise and re-raise when need be.
Ace-King Suited (Nicknames: Big Slick, Santa Barbara, Anna Kournikova, Big Ugly, King Arthur, Korean Airlines, Mike Haven, Walking Back To Houston) – Capable of beating most Poker pocket pairs at least half the time, an ace-king suited is a good opening hand. It's even better if you can expand it by connecting it to the Flop, or all you'll have is an Ace High.
Pocket Jacks (Nicknames: Fishhooks, Brothers, Jaybirds, Kid Dy-No-Mite, The Two Jakes, Suckers) – A Pair of jacks is a great hand to beat lower pocket pairs and unpaired hands. The hand is great if you're in a later position at the table and the pot has not been raised.
Pocket Tens (Nicknames: Dimes, TNT, Dynamite, Tension) – 2 10s form a formidable Poker starting hand; strong enough for you to play confidently even if a third 10 doesn't appear in the flop.
Ace-Queen Suited (Nicknames: Big Chick, Little Slick, Mrs. Click, Antony & Cleopatra, Mrs. Slick, Rocket Queen) – An ace-queen suited, such as the ace and queen of hearts, is a good, strong starting hand. Even though it's not perfect, its strength gives it a higher rank than an ace-king offsuit.
Ace-King Offsuit (Nicknames: Big Slick, Santa Barbara, Anna Kournikova, Big Ugly, King Arthur, Korean Airlines, Mike Haven, Walking Back To Houston) – An ace-king offsuit, such as the ace of diamonds and the king of hearts, gives you a chance of beating starting hands that don't include kings or aces approximately 40% of the time. However, the hand does decrease your chance of winning with a Flush.
Ace-Jack Suited (Nicknames: Ajax, Armani Jeans, Hijack, Jackass, Apple Jacks, Blackjack) – An ace-jack suited is a welcome site to many Poker players. The starting hand could be the seed of a Royal Flush, but don't be tempted to play too aggressively with it.
King-Queen Suited (Nicknames: Marriage) – A king-queen suited can work well for you if you hit a Pair in the flop. The starting hand could also pave the way to various straights and flushes.
King-Queen Suited (Nicknames: Marriage) – A king-queen suited can work well for you if you hit a Pair in the flop. The starting hand could also pave the way to various straights and flushes.
Real Money Poker vs Free Play
Not sure whether you should play real money Poker or enjoy a bit of free play online? Both have pros and cons, so weigh them up and see what's the best option for you.
Playing online Poker for real money adds another layer of excitement because you know you could win or lose.
There's no chance of losing money when you launch games in free play or practise mode.
Real money games offer chances to win real money pots and payouts.
You can practise playing unfamiliar or new games.
Playing real money games offers real chances to win, thanks to certified RNGs that produce game results.
Free play lets you enjoy more gaming entertainment when your budget is tight.
The best live dealer online Poker games are limited to real money bets.
You cannot play live Poker online for free.
Online Poker In Canada FAQ
If you're looking for gaming that offers something old, something new, wide variety, and the chance to combine the luck of the draw with skill, online Poker is for you! Learn the basics and find out everything else you should know about the game with us.